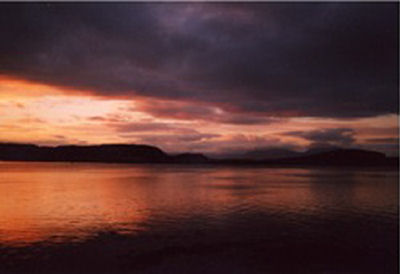 Frequently Asked Questions
• How many guest bedrooms do you have?
We have three. Double and double/twin both en suite, both overlooking the loch and having simply wonderful 20 ft domed ceilings. We also have a smaller double used when required . We also have a Z bed for a child in the Loch Awe suite or Ben Cruachan suite
---
• Is there a minimum stay?
Two nights or more generally.
---
• Is breakfast included?
Absolutely! Breakfast is generally at 9.15 am and is either full Scottish or continental ... toast, fresh fruit and yoghurt is included. Bread, marmalade and jams are all homemade by Patsy.
---
• Please may we book?
Just ring Patsy on 01866 833234 and place a deposit with a debit card (free) or if necessary a Visa card (sorry...£5 fee we have to pass on).
---
• Can you pencil us in?
Love to help but sadly not . The reason is that we get enquiries from across the world, sometimes on a daily basis so always best to ring to check availability and then book immediately when you actually know your dates.
---
• How do we settle the final bill?
Cash, debit card, cheque or Visa ( surcharge.see above) .
---
• Can we reach you by public transport?
It's very hard indeed and you definitely need a car to get about anyway.
---
• Where is the nearest airport?
Glasgow airport is a mere 105 minutes away and you have a lovely journey past Loch Lomond and you don't have to anywhere near Glasgow City centre! Edinburgh and Prestwick are both about 3 hours away.
---
• Do you have ground floor bedrooms?
All our bedrooms are upstairs.
---
• Do you take children?
Yes with well-behaved adults! Preferred ages are really babes in arms or aged 6y upwards. Only reason is that we have many delicate antiques. We have a Z bed for a child to sleep in the parents' room too.
---
• Evening meals for children
The local pub a mere mile away is very child friendly for evening meals. Understandably, by their nature and setting the (semi) formal Dinners at Sithe Mor House are of course adult only. On those occasions, by advance request Patsy can generally prepare a simple early evening / late afternoon tea / supper for children.
---
• Do you take pets?
Downstairs well-behaved pets are fine. We have a cat called Fergus!
---
• What time can we check in?
Guests arrive anytime after 4.15 for tea and homemade cake (always helpful to know if it will be after 7 pm) and leave by 11 am each day.
---
• Can we stick around the House during the day?
'Fraid not. We're not a commercial hotel but just a family Country House lochside B& B and in the usual B&B way, in the few hours available we have to address our own domestic routine...everything from Kitty's piano lessons in Oban to collecting the fresh trout for Dinner. Also the cleaning team need to ensure the your room and the House are wonderful for your return.
---
• Do you serve Dinner every night?
We're a B&B rather than a guest house but we do hold a (semi) formal candlelit Dinner on one night over a weekend. See separate section on Dinners. Informal suppers are sometimes occasionally available on notice.
---
• Do we all dine together?
Yes guests dine with us and indeed with any friends we have coming over for Dinner.
---
• Do we or can we dress up for Dinner?
If you want to then please do.see the Dinner section. We can probably lend you a kilt too if you wish. Please let us know if you intend to make it black tie so we ourselves can dress appropriately!
---
• Can we hire a boat?
We can generally book a boat for you. If you want one for a few days then it can brought over the loch and moored for you at our jetty so conveniently just a few minutes from the front door!
---
• Where is the nearest shop and petrol?
7 miles away in Taynuilt
---