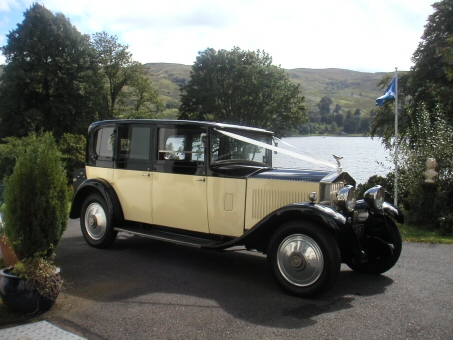 Weddings in Kilchrenan
Kilchrenan is a beautiful West Highland village in which to attend a wedding whatever the season.
A few useful hints to ponder...
How long will it take to drive to the village venue?
the village kirk (church!) 5 minutes
the Ardanaiseig Hotel 15 minutes
the Taycreggan Hotel 5 minutes

Is the parking free at all the venues?
Yes!
Is there a taxi service in the village?
No. Sometimes if the wedding and / or reception is at the Ardanaiseig Hotel there may be transport for wedding if the bride/groom have pre-arranged it.
Is there a kilt hire shop locally?
No. We however have over 40 kilts in the house and can probably hire you an outfit on notice. The cost is generally about £ 50 for the day with £ 25 deposit.
Do we have to vacate our room at 11 am if we are going to an afternoon wedding?
'Fraid so. In the usual way (with a B& B) our morning team needs access to your room and the rest of the house to have everything refurbished for your return.
Can we pop back and get changed tho before the wedding?
It should be okay generally for you to pop back say an hour and a half prior to the wedding time to get changed. If you let us know well in advance what time the wedding is and therefore what time you want to get changed we can try to make personal arrangements around you so that we are in.
What can we do after 11 am and before the wedding?
Loads. Taynuilt for example is 7 miles away and has a great tearoom...yes we know you have just had breakfast but the wedding and thus the reception could be hours away! It has also has great antique shop. Also Oban is 30 minutes away. We can even lend you wellies and waterproofs for a lovely local walk (without the car).
What's the latest time we can come back after the wedding?
Entirely up to you. Breakfast with or without paracetomol is at 9.15 am