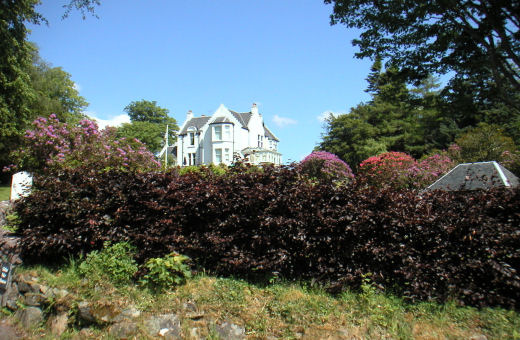 The House
Sithe Mor House was built in 1875 for the Laird of the Barbreck Estate in the Scots Baronial style on the shores of Loch Awe.
The house has lovely grounds with its own bay beach and jetty and enjoys private fishing rights. The bedrooms have 20 ft domed ceilings with original plaster work. Furnished with fine art and antiques Sithe Mor also has one of the finest collections of Oxford and Cambridge Boat Race memorabilia including family oars that go back to 1861. Family portraits and antlers adorn the staircase and hall.
John & Patsy Cugley
John is Senior Legal Counsel for a major UK Insurance Company. He is a full member of Leander Club and was the first solo oarsman to row each way across Scotland from the Atlantic Ocean to the North Sea and back including the dreaded Loch Ness.
Patsy's interests as "chatelaine" lie in the world of antiques, fine art, cuisine and keeping her hands full with the children, Kitty and Henry.
"We arrived as houseguests and left as friends..." "With its magnificent views over Loch Awe, its beautiful location and elegant rooms Sithe Mor House has all the qualities needed for relaxation. It has however so much more than that, thanks to the personalities of Patsy and John Cugley. Their style, enthusiasm, availability and sense of humour combined with such polished hospitality creates an unforgettable Highland break full of friendship and the joy of good living" - Max Buchanan